Soldiers of Fortune DVD R4 #1943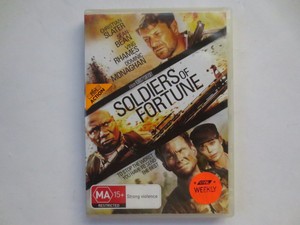 ---
Where we bring you the BEST products for the BEST price with the BEST service!Welcome to AuSummer Packaging!

 Item Description 

Soldiers of Fortune DVD Ex Rental

Region: 4 PAL

PLEASE ENSURE THE CORRECT DVD REGION CODE AND FORMAT IS PURCHASED!

DVD Regions and their corresponding countries:R1 Region 1 ~ U.S.A., U.S. Territories and CanadaR2 Region 2 ~ Europe, Japan, the Middle East, Egypt, South Africa, GreenlandR3 Region 3 ~ Taiwan, Korea, the Philippines, Indonesia, Hong KongR4 Region 4 ~ Mexico, South and Central America, Australia, New Zealand, Pacific Islands, CaribbeanR5 Region 5 ~ Russia, Eastern Europe, India, Africa (excluding South Africa), North Korea, MongoliaR6 Region 6 ~ ChinaAll DVD's, CD's and Blu-Ray under $5 value are sent Disc and Cover Only - No Case. (Will be received in an envelope) If you would like a case for an additional $1 to cover the postage please send us an invoice request after committing to your purchase. Excludes "Brand New" items which will be sent as normal. International Orders are all sent with a case for protection.   

Delivery & Postage 

We pride ourselves on getting your item to you promptly, majority of orders are sent "Same Business Day Dispatch".

Registered Post is an additional $3 on single items. Please message us for a quote if required for Multiple/Bulk Orders.

 Pick up not available.

Inquiries

Your inquiry is important to us, We try our best to answer your questions within 24 hours. 

 Need Help?

Happen to have an issue with your purchase? 

We want everyone to have a positive experience with us and we go above and beyond to resolve any issues so PLEASE message us first and we will promptly resolve it! 

We appreciate you taking the time to leave Positive Feedback 

and look forward to Future Dealings.