The Ninth Gate DVD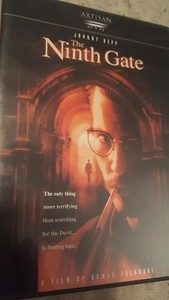 ---
This lot is for  The Ninth Gate  DVD. Shipping for this lot is $3 for media mail. 
                                    All comics are complete with no rips or tears unless otherwise noted. Comics come bagged and boarded. Most comics come 2 per bag and board.  I will combine shipping for multiple auctions won. Any questions just ask and please check out my other auctions. Thanks for looking.
                                                                                                      Welcome Back
So far I have sold my Captain America, Thor, Iron Man, most of Avengers, Incredible Hulk, and half of my Spider-Man collections and part of my X-Men collection. I still have many great Marvel runs to go including Fantastic Four, Daredevil, Punisher, second half Spider-Man, more of the most complete X-Men collection EVER! and many more. But the time  has come to sell off the next piece of my collection. Well, it's finally here!! X-Men Apocalypse, the movie I've been waiting forever for because it has my favorite villain of all time. In honor of this movie I will be listing some more of my X-men comics. For those interested, here's what you've missed so far : a beautiful silver age run of Uncanny X-men up to issue #300, volumes 1 of X-Factor , X-Force , X-Man and New Mutants, my Deadpool collection, the complete first Age of Apocalypse , and about 90% of my Wolverine comics, as well as some mini-series. Oh, how I miss them. But there are still so many more I must eventually bring myself to part with. Here's what you can look forward to : complete sets of every major X-Men title and just about every spin-off title, as well as a ton of mini-series! Up for grabs this time will be some Apocalypse related mini-series, complete collections of Gambit vols. 2+3 , Bishop : The Last X-Man, Mutant X ( one of my personal favorite series ) , and a near complete set of Generation X ( I'm missing 3 issues but I'm trying to track them down so it will be complete for anyone interested ). There are already many comic book movies planned and they are not going to be stopping anytime soon. Now's the perfect time to get these comics and you never know when some characters' first appearance is going to skyrocket in price because they are slated to appear in a new movie. Deadpool anyone?? So add me to your favorite sellers and check back often.  Thanks for looking!
                                                                              Bags + Boards         
Did you ever order comics and they arrive in some sticky, nasty bags or yellowed boards? I have and I don't like it! I make it a priority to take care of my comics and this includes clean supplies. So when bidding keep in mind that about 95% of my comics will be in very nice, if not brand new, bags and boards. But with the amount of comics I own and still purchase to save on supplies many of my comics are kept in silver age size bags + boards with 2 comics in each, front + back.                                      
                                                                                                           Grading
I am not a professional grader but I have been collecting comics for about 20 years and consider myself a fair judge. Check my feedback and bid with confidence.
                                                                                Shipping
I will only ship within the US. I take great care in making sure the comics reach you in the condition you purchase them in. I do combine shipping for multiple auctions. I apologize that I have had to raise my shipping rates some, as the post offices in my area will no longer allow me to ship comics media mail. I know other places still allow this but I've tried all post offices around my area and they open the packages now and return them to me with postage due. I try to ship most comics priority as the faster delivery time usual means less chance of damage during shipping, unless standard shipping is a significant difference then I will use that. I try to offer best shipping prices I can and I use lots of bubble wrap or if only couple comics place between many boards to insure safety of comics! Again look at feedback and bid with confidence! I work Thursdays-Sundays every week so the majority of my shipping is done on Monday-Wednesday. So if you pay for an item around the weekend it will most likely be shipped first thing Monday morning as Saturdays I work early in the morning and am unable to make it to the post office at all that day.
                                                                                 Payment
I only accept Paypal payments. Payment is due within 7 days of purchase.
                                                                                   Feedback
I appreciate your feedback and it may take me a couple weeks but I will leave positive feedback for everyone when I have the time. Over my many years with I have only ever had a couple complaints which were easily rectified. If you have a problem please contact me first to see if I can fix it before leaving negative feedback. Thanks!